Oct 31 2018
Return within
by Abhishiktananda, Swami (Henri Le Saux)
English version by H. Sandeman (?)
Return within,
to the place where there is nothing,
and take care that nothing comes in.
Penetrate to the depths of yourself,
to the place where thought no longer exists,
and take care that no thought arises there!
There where nothing exists,
Fullness!
There where nothing is seen,
the Vision of Being!
There where nothing appears any longer,
the sudden appearing of the Self!
Dhyana is this!
— from Guru and Disciple: An Encounter with Sri Gnanananda, a Contemporary Spiritual Master, by Swami Abhishiktananda / Translated by H. Sandeman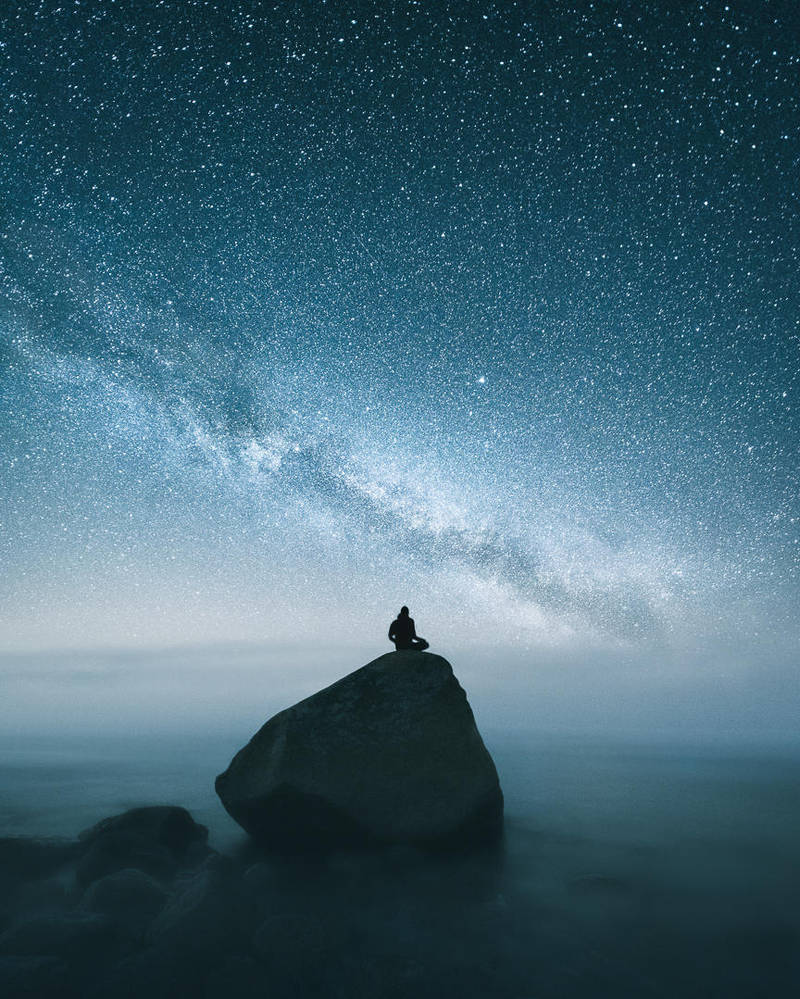 / Image by MikkoLagerstedt /
Return within…
A powerful description of deep meditation. (The word dhyana in the last line means meditation.)
There where nothing exists,
Fullness!
=
I have received several notes asking when the poem emails will resume. I had a particularly challenging chronic fatigue crash a couple of weeks ago, and I have been regrouping since then, recalibrating my health regime while doing my best to maintain my work hours with my day job. It may take me a couple more weeks to get into a regular pattern with the poetry emails once again. But I am generally improving and more Poetry Chaikhana will be coming your way soon!
I am also very aware of how much our attention here in the US and in the world is being taken up by the upcoming mid-term elections, by the terrible shooting of worshippers at the synagogue in Pittsburgh, and, for many, the sense of betrayal at the recent confirmation of Kavanaugh to the US Supreme Court. That's just a partial list.
It is important that, in the midst of however we reach out to help in the world, we remember to regularly "return within." It is that inner connection that imbues our outer action with its meaning and strength and resonance in the world.
Sending love to you all.
Recommended Books: Abhishiktananda, Swami (Henri Le Saux)
Abhishiktananda is a fascinating mixture of Eastern and Western spirituality. He was born as Henri Le Saux into a Catholic family in Brittany, France. He was highly devout from childhood and in his youth determined to be a monk. In 1931, he made his profession as a Benedictine monk and, in 1935, was ordained a priest.
At the beginning of World War II, in 1939, he was called up for mandatory military service. His unit was captured by German soldiers, Le Saux managed to escape and, with the help of a sympathetic farmer, make his way back to French territory and, eventually, to his monastery, where he resumed his monastic activities.
Early on Fr. Le Saux felt the call of India, and in 1948 he received his chance, leaving France, never to return. For the rest of his life, Fr. Le Saux would seek to combine the Catholic ideal with the purest essence of Hindu spirituality. He adopted the dress and lifestyle of a sanyasin, a Hindu renunciate, and took the name Abhishiktananda ("Bliss of the Anointed One (Christ)").
Abhishiktananda helped to found Shantivanam, a Christian ashram in India that sought to embody Christian spiritual ideals of service, community, and simplicity, without forcing converts and the curious to abandon the richness of their native culture. The stable life of a community administrator was not for him, however, and Abhishiktananda soon took up an itinerant life of pilgrimage to many of the great holy sites of India, proclaiming that it was entirely appropriate for a follower of Christ to bring his worship to such places.
One of his most profound early encounters was his meeting with the famous Advaitin sage Ramana Maharshi. The Maharshi was near the end of his life and their few meetings were brief, but transformative for Abhishiktananda, focusing his interests on the revelations of Advaita Vedanta (nondualism). Abhishiktananda would go on extended meditation retreats in the caves near Arunachala Mountain, where Ramana Maharshi lived and taught. Later, Abhishiktananda met another Advaita master, Swami Gnananada, to whom he became deeply devoted and acknowledged as his guru.
Outwardly, Abhishiktananda lived as a sincere, humble Hindu sanyasin; inwardly, he continuously sought to reconcile and integrate the two great spiritual traditions of Catholicism and nondualist Hinduism (Advaita Vedanta).
More poetry by Abhishiktananda, Swami (Henri Le Saux)
4 Responses to "Abhishiktananda – Return within"
Leave a Reply